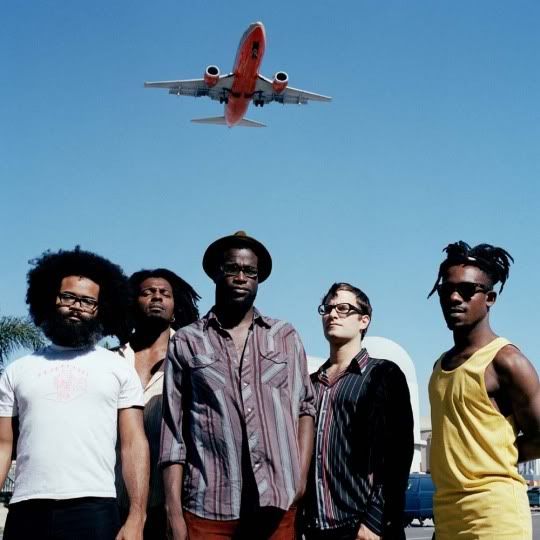 What's funky, awesome, and maybe the best album TVOTR has released so far (I'm a sucker for hype)? The answer is obvious; Dear Science. As I mentioned in the previous sentence, this is both funkier (see: Golden Age) and more consistent than Return to Cookie Mountain. I know I suck at writing long reviews, so instead I'll provide a song walkthrough.
The opener, Halfway Home, begins with a wall of sound strangely similar to Wolf Like Me, but after some seconds it departs in another direction as Tunde Adebimpe's monotonous vocals come in. During the song, the guitars adapt an almost Loveless-esque sound and create a great, melancholic soundscape together with the hypnotic vocals. Both The Jesus and Mary Chain and My Bloody Valentine come to mind, in an awesome, non-plagiarism, kind of way.
Crying is the first funky song on the album. Mixing noise pop electronics, falsetto singing and horns, this is a very interesting listen.
Dancing Choose is a faster song than the previous two, starting with a rap over either a massively distorted bass or electronic noise. It then develops into a full post-punk-funk assault, ending with a battle between the horns and guitars.
The fourth song, Stork & Owl, is a calmer and sadder song, featuring almost-Gregorian chanting, searing Godspeed You! Black Emperor-like strings with electronic drums and handclaps.
Golden Age sounds more like Prince than anything. Danceable, catchy and funky (that word can't be said too many times when describing this album). You can still hear the characteristic, fat guitars in the background though. They're just a bit quieter than usual.
Family Tree is another slow song, not entirely unlike Stork & Owl. The strings are back, and they're maybe even more beautiful this time. This is also one of the more post-rock-ish songs on the album, featuring a long buildup ending in an epic climax.
Red Dress swiftly turns you upside down after the calming previous song. "Fuck your war, 'cause I'm fat and in love, and no bombs are falling on me for sure." A wonderful line to start an awesome, sexy, afro-beat-y song. This is a really cool pop song, but also brings The Mars Volta to mind at some instrumental parts (listen 02.25 minutes into this song and tell me that isn't true). There's also some really epic horn work going on here.
Love Dog. The only song I cant stop listening to when I first got the rip. This is very much in the same vein as "Wear You Out" from Desperate Youth, but it doesn't really match the other ones on Dear Science. However, this might be my most favorite song on the album. Either way, this is a moodier song, featuring a long build up, the strings once again, and sad vocals.
Shout Me Out is such an amazing song that I nearly can't grasp it. It's got a driving beat, underwater-sounding super-psychedelic guitars, and a ridiculously catchy melody. A future indie classic, maybe even beating Wolf Like Me as the most sing-a-long-ish and catchy TVOTR tune. True indie pop goodness.
DLZ is perhaps the darkest song on this album. It's like Joy Division covering In Rainbows spiced up with some Burial night time moodiness. It's still really catchy though. "Who's next?"
Lover's Day finally closes the album, featuring the return of the massive Return to Cookie Mountain foghorn guitars and frantic drumming. The melancholic melody, post-rock build-ups, and marching band feel fits prefectly together. A perfect closer.
In conclusion, go get this fucking album and thank the staff at hoes and chokers (big up to Babir for finding the rip the day it was leaked)...
http://rapidshare.com/files/143256680/DearScience.rar